Fixing & Maintaining Boilers

in Henrico, VA
West End Heating & Air's 24/7 emergency repair team is ready for any boiler issue thrown our way, day or night. If you wake up noticing that your boiler is shaking, banging, gurgling, or whistling, call us so that we can keep you safe immediately.
Ultimately, a broken boiler is not something you should wait on. After we fix your issue, we can offer you a routine maintenance plan to prevent a severe boiler malfunction from happening again. Regular maintenance is the best measure to prevent leaks, air entering the tank, or a lack of hot water. Contact West End Heating & Air today to get started with a boiler maintenance program.
Keeping Families Safe as a Family-Owned Company
West End Heating & Air is proud to be a family-owned and operated HVAC company. We understand how vital family safety is to you. So when you tell us that your boiler is causing issues that can potentially lead to a severe accident, we'll rush as fast as we can to your property to fix the problem.
Our family-oriented company has helped us develop high-quality customer service. In addition to providing a reliable, quick, and affordable repair or replacement job, we will treat you just as we would our own family members. When you choose to have your boiler repaired or replaced by us, you become a member of our family.
Other Services
Boiler Service & Repair FAQs
Boilers last, on average, between 10 to 15 years. If your boiler is nearing this age, contact West End Heating & Air as soon as possible to provide you with a brand-new boiler.
If your boiler goes out, you'll be without hot water. A boiler needs constant hot water to remain in a specific water pressure range. Your shower may be colder, and laundry could be difficult, but all it takes is one call to West End Heating & Air!
The most noticeable sign of a boiler failure is if it's cold to the touch. If your house is getting cold, the hot water feels lukewarm, or the radiators aren't heating evenly, your boiler has failed.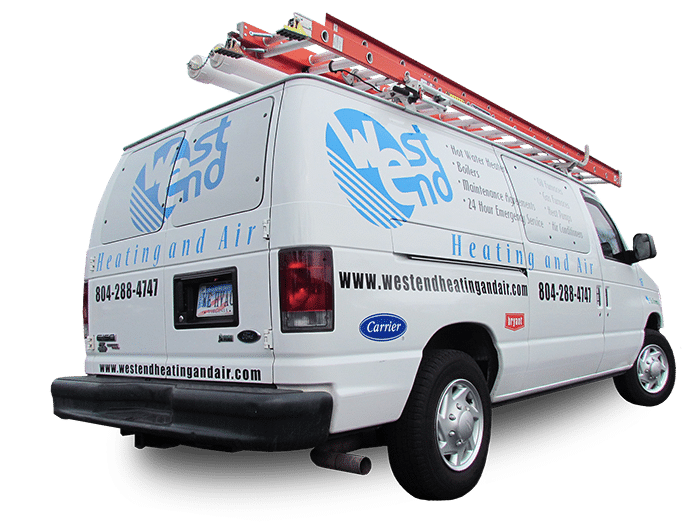 Request Service Today
Reach out today and our team will respond quickly to provide you with the service you need as soon as possible.